Trayed Cookie Items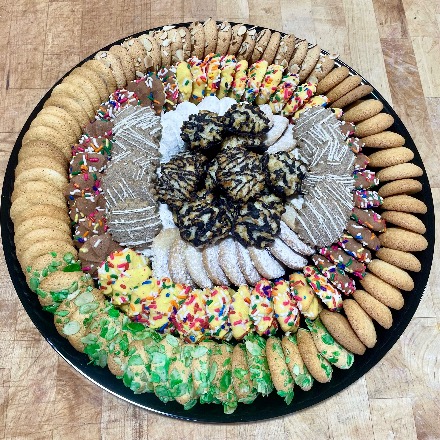 Our cookie trays are the perfect display for any party! Designed to "WOW" in look AND taste!
---
Trayed Cookie Items
Italian Cookie Trays
Italian cookie tray assortment consists of a majority of Macaroons (Plain, Cherry, Almond, Pistachio & Chocolate Coconut) and Butter Cookies (Yellow Sprinkle & Chocolate Sprinkle). We also add a handful of mixed Biscottis and a smaller sampling of our other specialty/seasonal cookies which may include: Raspberry Shortbread, Snowball Melt Away, Italian Rainbow, Peanut Butter Crunch, Apricot Pocket, etc.

**Assortment is subject to vary by location.

Please note any special requests/custom cookie assortment and we will do our best to accommodate.
---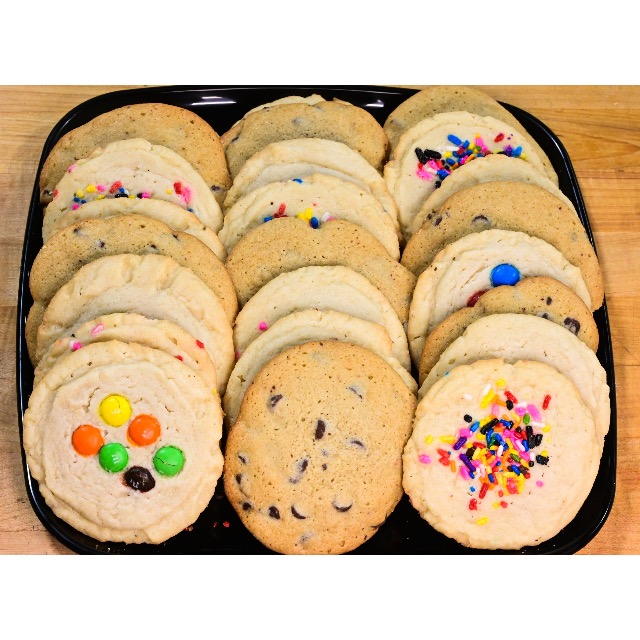 Trayed Cookie Items
Large Cookie Platter
2 dozen assorted cookies. Flavor choices: Chocolate Chip, M&M, Sprinkle, Sugar, Oatmeal Raisin.
---
Trayed Cookie Items
Mini Cookie Platters
Choice of 3, 4 or 8 dozen trayed mini cookies with your choice of flavors: chocolate chip, M&M, oatmeal raisin or sprinkle.